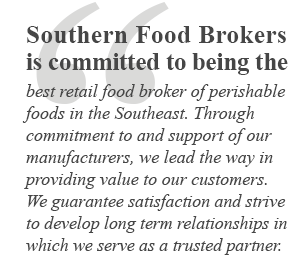 Welcome to Southern Food Brokers
Specializing in Perishable Foods.
Southern Food Brokers was founded in Birmingham, Alabama in May of 1998 with only five employees and one manufacture, Fieldstone Meats.
After moderate growth and acquisition of additional principals, most notably Gwaltney, Southern Food Brokers relocated to Trussville, Alabama within two years. The new accommodation afforded us necessary office space.
Our current facility was constructed in March of 2006 in Pell City, Alabama. Continued expansion and attainment of an increase manufacture partnership, remains the impetus for our growing staff of 16 employees.